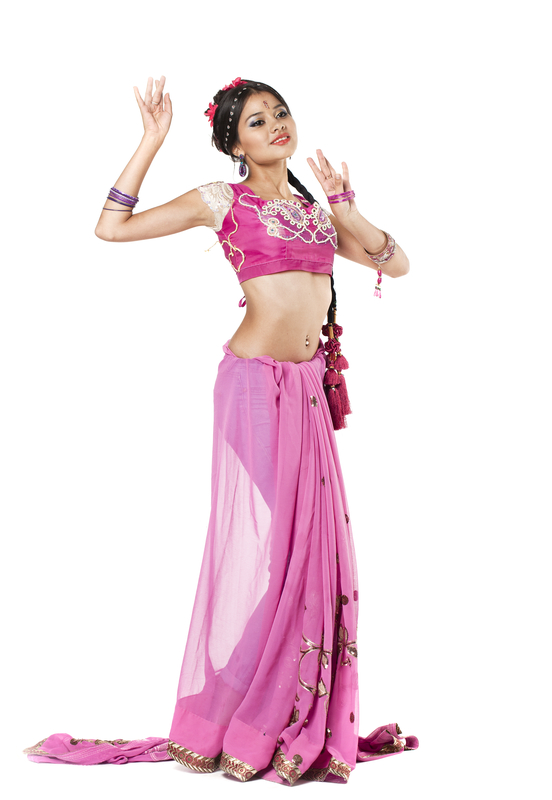 Also called Sari, Saree is a common traditional costume worn by women from India, Sri Lanka, Nepal and Bangladesh. Described by many as a show of unrivalled elegance, Saree expresses a rich twist of ancient Indian art. The costume is fabricated with about 6 yards of extravagant fabrics, draped in fascinating styles that will strike you at first sight.
Sarees are tailored with intricate embroidery patterns, embellishments and jewellery-like accents. Although the styles of Saree vary from one costume to another, the most common style entails a long strip of unstitched fabric, worn by wrapping it around the waist and shoulder, giving a brief exposure of the midriff.
Traditionally, sarees were made from silk and cotton. However, there are several varieties of saree today, made of other luxurious materials like, chiffon and synthetic blends. The fact that saree is fabricated with unstitched fabrics is one of their unique features that distinguishes them from other types of traditional wear.
Tips for Doing Saree Laundry
There is usually a lot of artistry that goes into the fabrication of Sarees. And, that is clearly expressed in the detailed intricate patterns, conspicuous colours and embellishments of the costumes. These sophisticated designs are among the main elements that make it quite challenging for most people to clean saree. If your saree is made of silk, handling it can still be a little tricky owing to the sensitive nature of the material.
The following are some of the key guidelines to always keep in mind when cleaning saree;
Soak cotton sarees before washing – In case it is the first time that your cotton saree is being washed, it is advisable that you first soak it in warm water mixed with rock salt for about 15 minutes. This will help with preventing the colours from 'bleeding.'
Starch cotton sarees after washing – Starching cotton saree is always recommended to retain the crisp feel of the fabrics and, also prevent staining.
Avoid hand wash or machine wash for silk saree – Silk is usually a very sensitive material that can be hardly damaged by intensive cleaning techniques of hand wash and machine wash. The best way to clean silk saree is through dry cleaning, which should always be done with a lot of care.
Clean sarees using cold water – Due to the sophisticated embroidery and embellishments of saree, using hot water to clean them could easily damage the designs.
Do not air dry silk sarees in direct sunlight – After cleaning your silk saree, it is advisable to air dry it under a shade since exposing it to direct sunlight can cause fading of the colours.
Never use a machine dryer on silk sarees – Silk does not require exposure to intense heat, like the one discharged from a machine dryer. The heat can cause irreversible harm to silk, ruining the entire costume.
The procedures of cleaning saree can be very complicated, especially if you do not know how to best handle the fabrics and accents. In fact, even using a wrong detergent for doing saree laundry could easily lose the costume's shine and degenerate its overall value. But, why get into all the trouble when you can easily hire professional saree laundry and dry cleaning service Singapore?
Professional Saree Laundry and Dry Cleaning Service Singapore
If you are looking for professional saree laundry and dry cleaning services in Singapore, Laundry Service Singapore is the right place to visit. We have many years' experience in traditional wear laundry and, are confident that your Saree will be accorded a safe and effective treatment to restore its unique shine and strength. With us, you can always be sure of convenient and affordable saree laundry and dry cleaning service.
Although there are various techniques and products for doing saree laundry and dry cleaning, we will only use the best approaches tailored to the fabric and designs of your costume. Due to our experience in traditional wear laundry, we understand the most suitable methods and detergents for cleaning saree. Regardless of the condition of your saree, we can help you revive its looks with professional saree laundry and dry cleaning.
At Laundry Service Singapore, we offer flexible saree laundry and dry cleaning services that you can always receive at your own convenience. Talk to us for professional saree laundry and dry cleaning Singapore.
Disclaimer
Stain removal is not guranteed