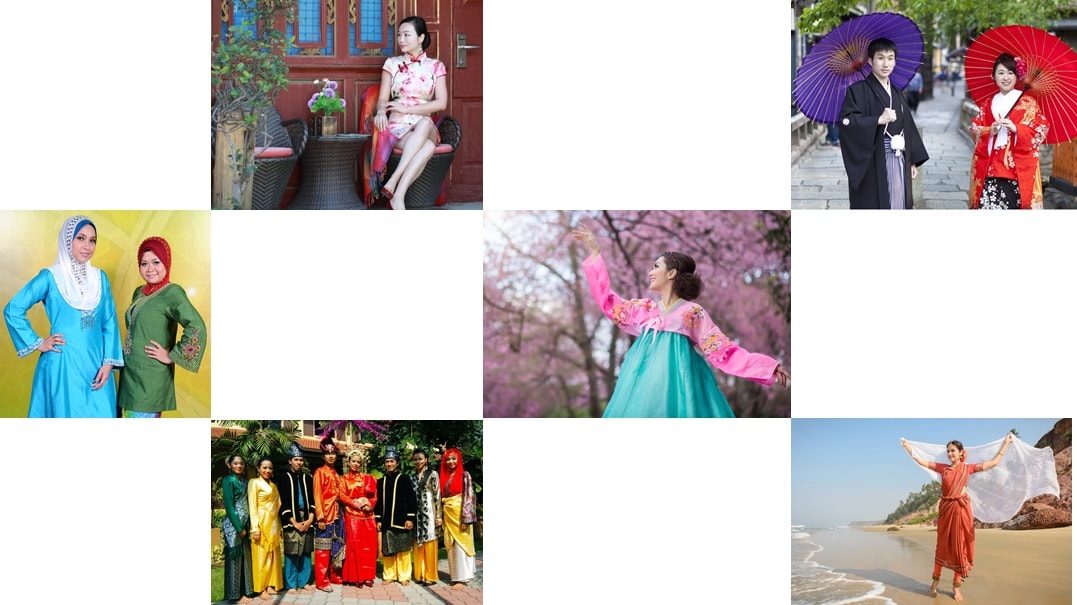 Traditional wear are unique garments draped with sophisticated accents and styles, expressing different cultural values. Although the designs of traditional wear vary from one culture to another, a majority is crafted with highly sensitive fibres and extravagant features that can be quite challenging to deal with when doing laundry.
Owing to the complex designs and delicate fabrics of most traditional wear, they usually require specific cleaning techniques and products. This means, washing them the same way as other common garments could easily result into serious damage. But, you do not have to take such risks considering traditional wear are quite expensive to acquire.
At Laundry Service Singapore, we can help you preserve the fine looks and quality of all your traditional wear with professional traditional wear laundry and dry cleaning services.
We offer reliable garment, clothing and linen laundry services for a wide range of traditional wear including;
Baju Kurung is a Malaysian traditional garment believed to have originated from the Malay Peninsula in Southeast Asia.  In English, the term Baju Kurung refers to ''an enclosed dress,'' which comprises of a skirt and sleeve-length coat. Although the costume is not so heavy, cleaning the fabrics can be a little challenging, especially with a washing machine. To easily avoid all the headaches, talk to us for professional Baju Kurung laundry and dry cleaning.
Saree or sari is a traditional costume worn by women from the Indian subcontinent. The garment is designed with distinctive long drapes wrapped around the waist and shoulder, leaving some skin between the waist and the chest exposed. Unlike other traditional wear, saree is usually fabricated from silk and cotton with delicate shinny detailing that can be easily damaged while washing. But, we can help you avoid all the hassles when you acquire our saree laundry and dry cleaning services.
To most westerners, Cheongsam is the Chinese traditional costume. The long short sleeved and close-fitting dress is enhanced with a mandarin collar and a one-sided slit up. Cheongsam is mainly made from silk and worn by women from China and Indonesia. Considering the sensitive nature of silk and the sophisticated styles of Cheongsam, the best way to preserving the value of the ones that you have in your wardrobe is through professional cheongsam laundry and dry cleaning.
Sampin and Songket are luxurious traditional costumes worn by Malaysians and Indonesians. Unlike most conventional traditional clothing that is machine made, Sampin and Songket are hand woven using silk or cotton. Besides, they are crafted with sophisticated silver and gold threads, creating a flashy effect against the costume's background. In order to effortlessly keep your Sampin and Songket looking great over time, simply get our professional Sampin and Songket laundry and dry cleaning service.
Kimono is a long and loose traditional costume of Japanese origin. The garment, which looks like a robe has wide sleeves and a shash for tying the pieces together. Although varieties of kimono have been developed over the years, the original design comprises intricate and large patterns in conspicuous colours.  Besides the fluffy nature of the costume, preserving the colours and textures of the fabrics can still give you a lot of headache during laundry. But, you can now easily avoid all the hassles with our professional kimono laundry and dry cleaning services.
Hanbok is the traditional Korean garment, which has dominated the culture of the Korean people for decades. Worn by both men and women, Hanbok has a distinctive appeal marked by colourful fabrics and a harmonious blend of soft curved and straight lines. Mainly worn on special occasions like, weddings, Hanbok is an expression of timeless beauty and style that stands apart in every way. At Laundry Service Singapore, we offer professional Hanbok laundry and dry cleaning services to help you preserve the garments in pristine condition.
Get the Best Traditional Wear Laundry & Dry Cleaning Service Singapore
Finding the right person to do the laundry for your traditional costumes is the best way you can ensure the garments are kept looking great and in proper shape at all times. However, you do not have to look any further because; Laundry Service Singapore is the traditional wear laundry expert that can effectively meet all your needs.
Get in touch with us today for reliable Baju Kurung, Saree, Hanbok, Sampin and Songket, Kimono and Cheongsam laundry and dry cleaning services Singapore.
Disclaimer
Stain removal is not guranteed